Certificates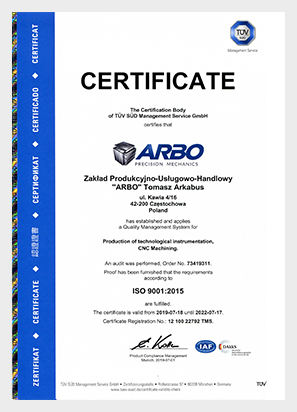 Superior quality warranty
Quality is our priority as well as aim where we constantly follow. While manufacturing tooling and other components we verify each of the processes more than twice always taking into consideration what and how to do it faster, better and in more efficient manner.
Thanks to our years of experience we understand that quality and reliability of our products make our customers trust us. Trust is a superior value because it makes our offer competetive and provides us a recommendation on the global market.
We act basing on the quality management system certified according to ISO 9001 standard by TUV Suddeutschland Service GmbH. The certificate confirms our highest standards of monitoring our manufacturing process as well as other supporting processes in ARBO company.
DEVELOPMENT ON INTERNATIONAL MARKET
HIGHEST CUSTOMERS
RATING
Download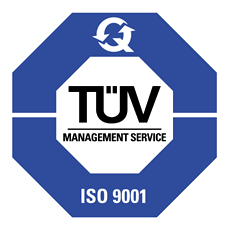 We act basing on
ISO 9001:2015